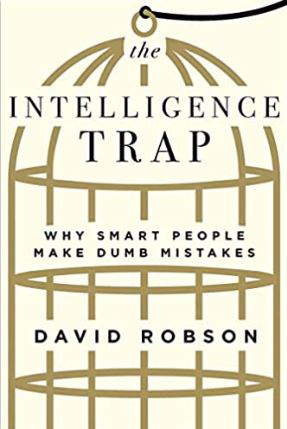 The book attempts to answer the question 'of why smart people do stupid things and how to make wiser decisions. The author is a science journalist, and he connects the work of various social scientists to present his hypothesis.
The author starts by giving examples of how people with high IQ, education, and expertise can also be prone to mistakes, often for stupid reasons. When reading this, I was drawing parallels to how highly qualified and experienced seafarers onboard ships make errors of judgement.
Potential forms of the intelligence trap include:
We may lack the necessary tacit knowledge and counter-factual thinking that are essential to executing a plan. An example could be the Bridge Team's lack of knowledge of the navigable waters inside a harbour.
We may suffer from disrationalia, motivated reasoning, and the blind bias spot, which allow us to rationalise and perpetuate our mistakes.
We may place too much confidence in our own judgement due to earned dogmatism, so we no longer perceive our limitations (read my chapter in Golden Stripes on the limits of expertise).
Entrenched, automatic behaviours render us oblivious to warning signs (think Norwegian Dream grounding).
One of the ideas the author proposes is based on Benjamin Franklin's view of life that as he grew older, he was open to doubting his own judgement, and paying more respect to the judgement of others, that is, he was less dogmatic and averse to making over-generalizations.
The author has proposed a set of principles that people often use to make bullshit statements.
These are 'appeal to ignorance' (such as the geocentric model for the sun and the earth), that was enforced by the 'appeal to authority.' There are some more such as 'correlation causes causation' such as athletes wearing dirty socks or a favourite shirt.
'Strawman arguments' oversimplify counterarguments, and 'appealing to the bandwagon' uses the principle of influencing large tracts of people to spread weak arguments.
'False dichotomy' presents only two options whereas there may be more than one for the situation.
'Red herrings' and 'Special pleading' are the last resorts for bullshitters to get their way.
David Robson follows this up with a proposed 'bullshit detection kit' which comprises questions such as:
Who is making the claim? What are their credentials? What might be their motives to make the claim?
What might be the premises of the claim? How may they be flawed?
What are my initial assumptions?
What are the alternative explanations for the claim?
What is the evidence?
What further information do you need before you make a judgement?
The author's observations conclude in a proposal that both curiosity and a growth mindset can help everyone, including already gifted brains to maximise their potential.
For a learning strategy, the author suggests that it is better to space our learning, i.e. breaking out studies into smaller chunks. Helping students use comparisons and analogies also helps in pattern recognition. Deliberate practice helps and studying by rote is not a clever idea in the long term. Some of the strategies are similar to my proposals in Golden Stripes.
Similarly, teams can also fall into the intelligence trap, and a leader can make a difference by facilitating the participation of each member of the group, and by having a down-to-earth (or to the sea-level) approach. Donald sums up the qualities of high-reliability organizations:
They are preoccupied with failure (start every day as a fresh day, report and discuss errors)
Reluctance to simplify interpretations (understand nuances, think beyond expectations)
Sensitivity to operations (building curiosity)
Commitment to resilience (through reviewing near-misses)
Deference to expertise
Though I may not agree with all the comments the author makes in this book, David makes some useful points- which is the point of reading The Intelligence Trap, i.e. to keep our minds open to all ideas and perspectives.
References:
Full disclosure: I don't get paid to post reviews, so you can be assured that this is my candid opinion, and how I see the contents of the book apply to my world.