"Our greatness has always come from people who expect nothing and take nothing for granted - folks who work hard for what they have, then reach back and help others after them." - Michelle Obama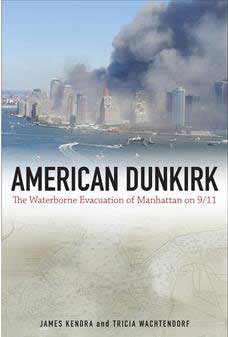 When the terrorist attacks struck New York City on September 11, 2001, close to a million New Yorkers found themselves trapped on the southern tip of Manhattan. Mass transit was shut down. Bridges and tunnels were closed. Some started walking north, and others turned to the water without knowing what to expect.
Harbour boats started to arrive one by one, and as word got around- more boats came in numbers. There were ferries, tugs, pleasure boats and fishing craft- all to help evacuate the stranded people. Over 100 boats worked over the course of about 10 hours, making trip after trip after trip, helping over 500,000 people reach the safety of their homes, or to get medical attention. It was the biggest such effort in world history, and is compared to Dunkirk, where a roughly comparable number of soldiers and civilians were rescued over a period of eight days.
Professors James M. Kendra and Tricia Wachtendorf have documented this story in their well-researched book American Dunkirk: The Waterborne Evacuation of Manhattan on 9/11. They interviewed hundreds and chronicled this maritime operation. Their work helped track down many of the heroes that day which led to them being officially recognized by the government.
The authors have the expertise to look at the evacuation analytically. Both of them are Directors at the Disaster Research Center and Professor, School of Public Policy and Administration at University of Delaware, USA.
The mariners did it without expectation of reward or recognition, selflessly and in knowledge that they would probably not be compensated for the fuel or for their time in the operation. The seafarers broke down the scale of the operation into small chunks, and communicated effectively between them to achieve this feat. They showed leadership in crisis, and their social responsibility.
These are lessons for us all. The ethic of social responsibility has been embedded in the maritime community through tradition, and even codified in the internationally applicable regulation SOLAS (International Convention for the Safety of Life at Sea) Chapter V, regulation 33: 'The master of the ship at sea which is in a position to be able to provide assistance, on receiving a signal from any source that persons are in distress at sea, is bound to proceed with all speed to their assistance.'
Besides fulfilling the objectives of their business, leaders on sea or land have an obligation to their employees, to communities in which they operate, and to the planet's resources- often without expecting anything in return. Help in whichever way you can, one small part at a time- and not necessarily just in crises. A great leader is one who makes a difference for good.
Full disclosure: I don't get paid to post reviews, so you can be assured that this is my candid opinion, and how I see the contents of the book apply to my world.
References: