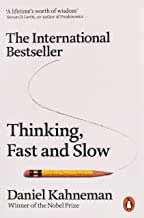 When someone devotes their life to the study of decision making and then writes a book about it- it's no wonder that this is the most underlined book in my library. Thinking Fast and Slow was part of my research on decision making when I wrote my book on maritime leadership; I'm not alone in this- Dr Kahneman's work is referenced in several books, including Nassim Taleb's The Black Swan. 
To make the review easy for myself, I will just list the highlights from the first chapter (11 pages), and how I see it applied in the maritime context.
The book begins by framing our action processing as System-1 which operates automatically, with little effort, and with no sense of voluntary control, and System-2 which is deliberate and require focused attention. Normally we are operating in System-1 with System-2 running in the background- which is not a bad 'load-balancing' system for our brain. However, System-1 is prone to biases and errors, so the author recommends that we learn to recognize situations in which mistakes are likely and try harder to avoid significant mistakes when the stakes are high.
Navigators will know that often you need to scan the horizon or the radar screen to make sure you haven't missed a shape or speck in your usual sweeping glance in your field of vision. That is System-2 briefly taking over from System-1. When an experienced engineer immediately shuts down an engine after hearing an abnormal noise, it's probably the reflexive System-1 in action. System-1 can be counterproductive too- many seafarers have died by rushing without a breathing apparatus into an enclosed space after hearing a cry of help from their shipmate; this is where System-1 can kill us and instead we need to engage System-2 which recalls our training and forces us to don an SCBA, raise an alarm, and carry out an organised rescue.
In a Bridge or Engine Room Team, you need members of your team to be on operating on different Systems. For E.g. the Harbour Pilot would be mostly operating on System-1. System 1 is the 'expert intuition' which comes from experience. Expert intuition can be learnt by prolonged exposure to situations that are "sufficiently regular to be predictable", and provided quick feedback is given to the expert on whether he did the right or the wrong thing. This is how experts develop their unconscious" pattern recognition" mechanism to get the right answer quickly. However, the price to pay for System-1 is that it assumes WYSIATI ("what you see is all there is"), and it has no doubt whatsoever in its thinking process, jumps easily to conclusions and it is subject to various irrational biases. Speed is achieved at the expense of precision.
Hence, it helps if the Bridge Team is involved in the manoeuvre. Because it is easier to recognise someone else's errors than our own, working in a trained team, with ongoing feedback mechanisms is part of the ideal solution. In this context, the Master would be operating possibly in equal parts on System-1 and 2, whereas the Officer on Watch is mostly on System-2. Pre-task briefings further engage System-2 thinking which feeds into System-1 and improve the chances of success of the instant response to surprises during a manoeuvre. You can take this example in any doer and supervisor scenario onboard the ship, or even in the office.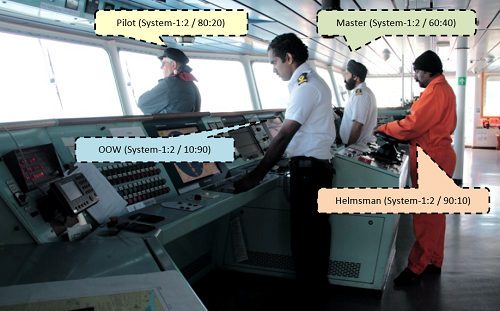 An illustration of how system-1 & 2 thinking would typically be involved in the ship's Bridge Team
Dr Kahneman alludes to heuristics and is gracious in referring to his once research partner Dr Gary Klein for his work on heuristics - which I've used extensively for my research on decision making on ships.
Thinking Fast and Slow is enormously useful to anyone who makes decisions- basically, everyone, as not deciding is also a decision.
Full disclosure: I don't get paid to post reviews, so you can be assured that this is my candid opinion, and how I see the contents of the book apply to my world. 
Amazon link for the book Thinking Fast and Slow