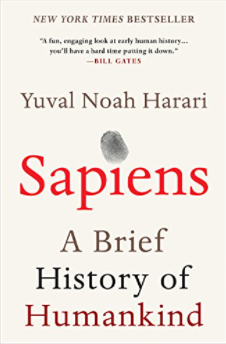 "We study history not to know the future but to widen our horizons, to understand that our present situation is neither natural nor inevitable and that we consequently have many more possibilities before us than we imagine." This quote from the author is helpful to understand why this book is a must-read, especially for global leaders, including in shipping.
Yuval reminds us that 'homo sapiens does its best to forget the fact, but it is an animal', and that 'your core identity is a complex illusion created by neural networks." We make decisions through feelings but these feelings do not amount to any kind of free will. "Rather, feelings are biochemical mechanisms... algorithms honed through millions of years of evolution." However, Yuval also provides the distinction that "the truly unique trait of 'Sapiens' is our ability to create and believe fiction. All other animals use their communication system to describe reality. We use our communication system to create new realities…We control the world basically because we are the only animals that can cooperate flexibly in very large numbers. And if you examine any large-scale human cooperation, you will always find that it is based on some fiction like the nation, like money, …or a limited liability company"
In a world where I see people increasingly fixed to ideologies or 'beliefs', my takeaway from this is that we humans function in pretty much the same way irrespective of gender, ethnicity, religious or ideological beliefs, sexual preferences, or the languages that we speak.
'Humans think in stories, and we try to make sense of the world by telling stories'. Leaders can harness the power of stories for influencing positive company culture. This also helps to inform that there are multiple sides of a story, and one must always seek various reference points to inform themselves.
Leaders should also be aware of the power of gossip: "reliable information about who could be trusted meant that small bands could expand into larger bands, and Sapiens could develop tighter and more sophisticated types of cooperation." It helps to understand that gossip in an organisational or any environment is the elephant in the room – an event that takes place all the time, across all cultures, but no one talks about it. Also when you consider Yuval's statement that "we are full of fears and anxieties over our position, which makes us doubly cruel and dangerous", it's helpful for leaders to remember this and communicate often so that narratives formed by gossip (especially malicious ones) do not lower morale in a working group.
Yuval also says that "happiness does not really depend on objective conditions of either wealth, health or even community. Rather, it depends on the correlation between objective conditions and subjective expectations." For example, two people at different socioeconomic levels will experience happiness after winning a lottery in different ways. This statement also matches Maslow's hierarchy of needs and helps leaders inform their strategy for motivating people.
"Hierarchies serve an important function. They enable complete strangers to know how to treat one another without wasting the time and energy needed to become personally acquainted." For example in business, people find certainty and efficiency in knowing who their counterparts are and how they should communicate. On the other hand, not everyone in a social hierarchy would have had an equal opportunity to develop and exercise their talent. A leader might find good talent at every level of their organization and needs to tap into that potential.
I admire the author for having put together such an abstract concept as the evolution of mankind in a coherent narrative. I also read his second book Homo Deus- which is about the potential ways in which humans could evolve in the future- which is also a compelling read.
Amazon link for Sapiens
Amazon link for Homo Deus
Author Google Talk
Full disclosure: I don't get paid to post reviews, so you can be assured that this is my candid opinion, and how I see the contents of the book apply to my world.